«...Make a long story short»
How to start a story? The "once upon a time" seems to me outdated, banal. Let's leave it to fairy tales.
I would rather focus on what is the experience, if we want to become a provider we must first know "what we sell".
How to define it…I believe it is connected to what you feel, that you live when you come into contact with something, for example, an object or a space. 
The two great levers of experience are emotion and relationship.
I know what you think..Why are experiences so important? Does experience involve our job?
But we take it slow. I don't want to spoil you the final, l hate when the others do it to me.
Like in a respectable story, there are two protagonists: the main one is called the customer and the secondary one is the "seller" of experiences. The narrator in this case is Experiential Marketing.
He says that the behaviour of the consumer has changed, so today it is no longer enough to offer him a product as such, but it is necessary to create meanings able to let him live news experiences and emotions. 
This is the only way to create a deep and lasting relationship with the customer and be remembered.
I guess you're figuring out where I want to go, the idea is to break the object-use binomial and give it a deeper sense. 
And by doing so, a simple space, a simple armchair, a simple wall can become something more, imagine it as the pumpkin of Cinderella that becomes a beautiful carriage.
The magic wand is in your hand and we are the magic dust that makes it possible. It's only necessary, in every project, to focus on the customer or on the guest and create solutions for what he really wants, not based on what we think he would want.
«Abracadabra»
It's time that I told you the story's ending. There is therefore, as already mentioned, a connection between the design of spaces and environments, experiential marketing and the concept of creating positive and meaningful experiences for your guests.
Imagine how sad it would be if a guest didn't remember anything, not even a detail of your facility. Surely this would also affect loyalty and the possibility of positive word-of-mouth.
But we don't think about returns (yes I know they are important) but those are the consequences. What you need to do is to do a good job, put yourself in the shoes of a guest and ask you what he would like to live, how can you make his stay unique and memorable.
I want to tell you another secret, in the Hotel and catering industry the future's not have luxury facilities but provide experience.
There are more and more projects of great architects and owners or directors who join with the aim of creating unique spaces for sensations and emotions, where the main pillar (to stay on topic) is the interior experience of the guest.
Do we choose one at random? Philippe Starck. Perhaps the precursor of this trend. Just look at his project for the Mama Shelter in Paris, a place like himself defined where everyone can be united, rich, poor, known or unknown, artists, whose furniture with its pleasant and well-balanced volumes makes the guest feel at home, at "Mama"home.
The goal was to create not a place to spend the night, but a modern kibbutz, a secular monastery, a place where friends can gather around a table to share a meal, where everyone can be themselves.
The graffiti in the ceilings, the sea-life donuts inserted to cover the pipes in the bar area, the yoga space, the seating tables in which are combined classic chairs and sofas, the long table where you can play in 8 with on the side of the tents that represent human faces with outstretched arms as if they wanted a hug, are perfect examples of what l said.
Getting to the point, how do you become an experience provider? It's possible to act across five dimensions, of which three are: sense, feel, act.
«You should also please the eye»
Let's start with Sense. The sense as you can imagine is connected to the senses. The aim is to create sensory experience through sight, hearing, touch, smell and taste. The presence of the same fragrances, palette of colors, design, furniture, complements of a Hotel chain makes the guest, in whatever part of the world he is, entering a Hotel recognize him and associate with that brand the emotions that these elements provoke in him.
Let's give a little concreteness to all this abstraction, it is our work.
Yotel has been doing it for years.
They conduct research on their targets to identify personas and put themselves in their shoes to discover their interests, what they would like to find in the Hotel, why they travel, what services they need.
Look at the images below. Do you see any similarities? I would say yes, despite being three different spaces of Hotel, the purple color palette is always used to distinguish the group and generate a memory in the customer.
Corridor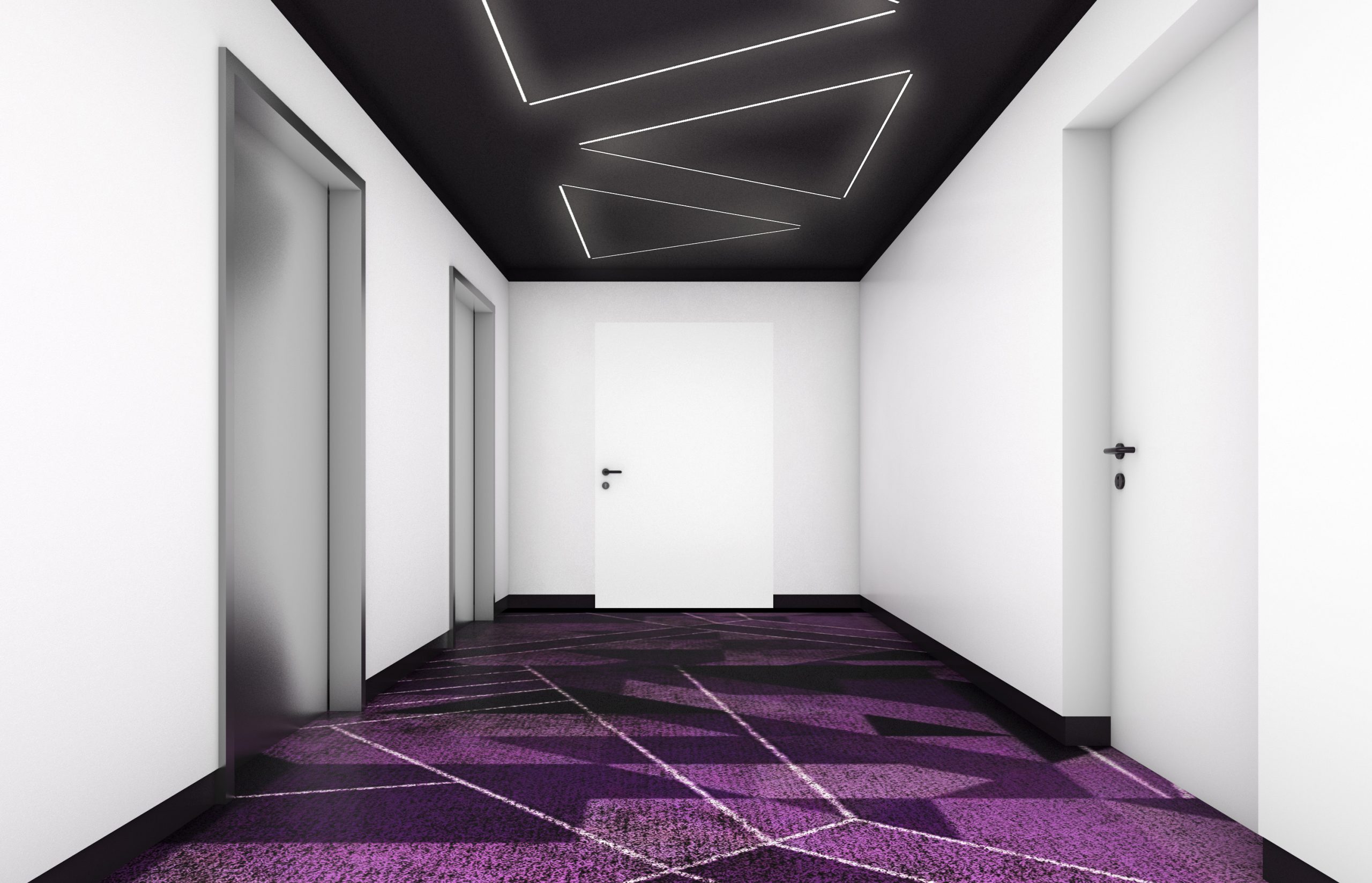 Public areas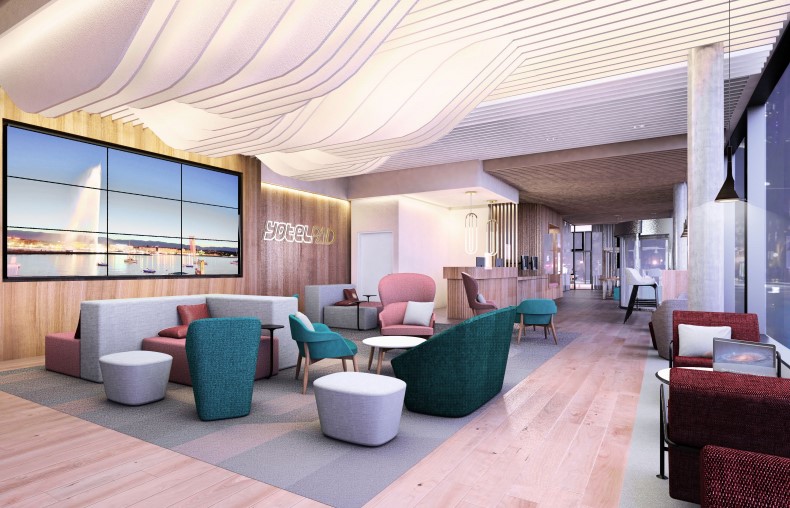 Rooms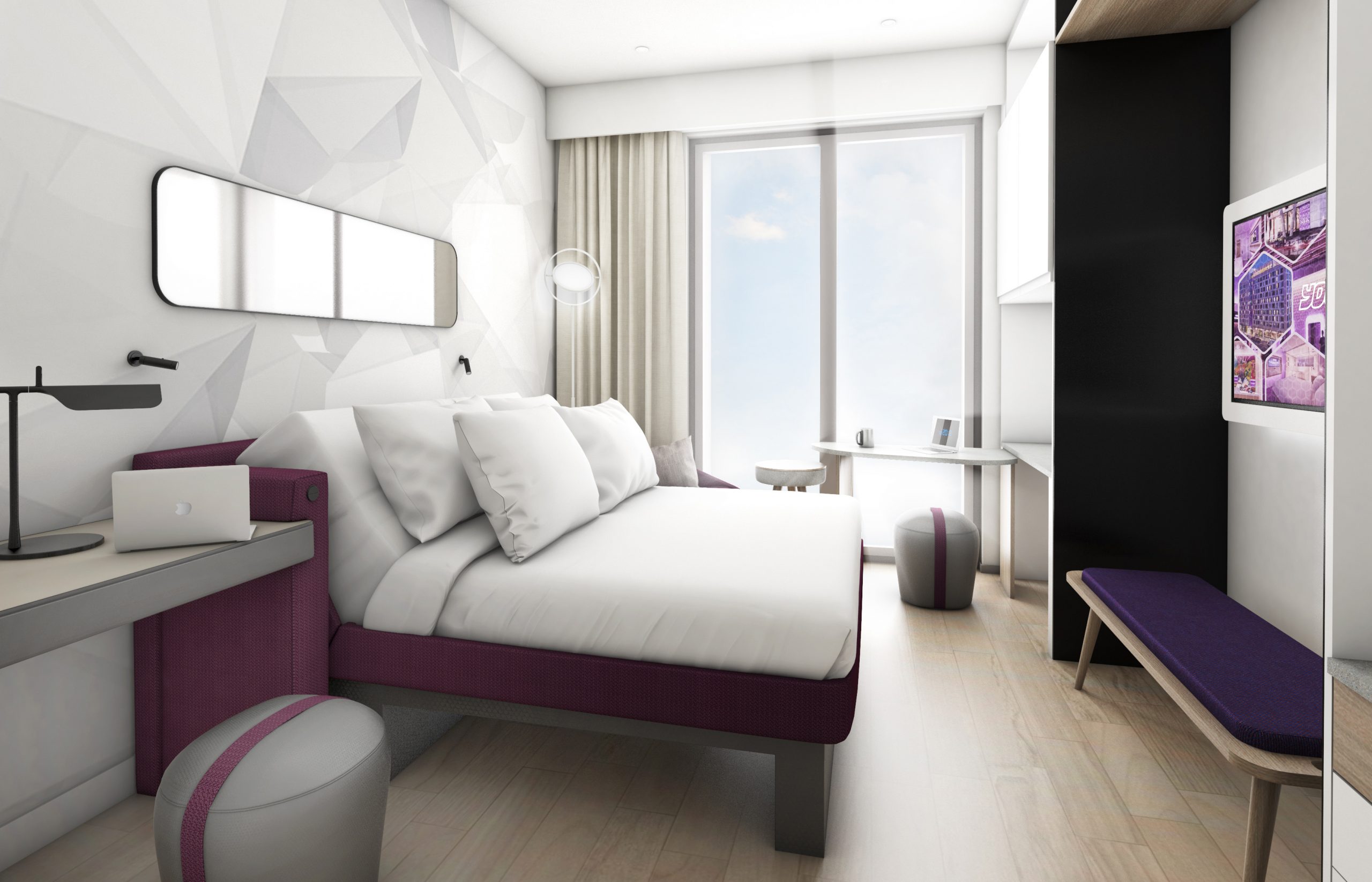 Also at the entrance of all Hotels of the chain located in different parts of the Word there are always arches with the signature "Yotel" cold white, totems, also for the walls, carpets and ceilings are always used materials or colors chosen from a selected set. The furniture? Similar or even the same.
«Do unto others as you would have them do unto you»
The Feel refers to the customer's inside feelings and its aim is to create experiences that arouse feelings and emotions.
How do you feel about this picture beside?
I personally feel relaxed. It's this feeling that our customers considered when they asked us to design the counters for the breakfast room at the Crowne Plaza Zurich.
 I don't know your habits, but to start a day well, besides a good coffee (that can never be missing), I need peace and quiet.
To evoke these feelings and emotions we have designed counters for the breakfast room using white marble able to arouse and make the guest feel relaxed.
It's not over yet. If you want to become an experienced provider you have to know more, "a little learning is a dangerous thing".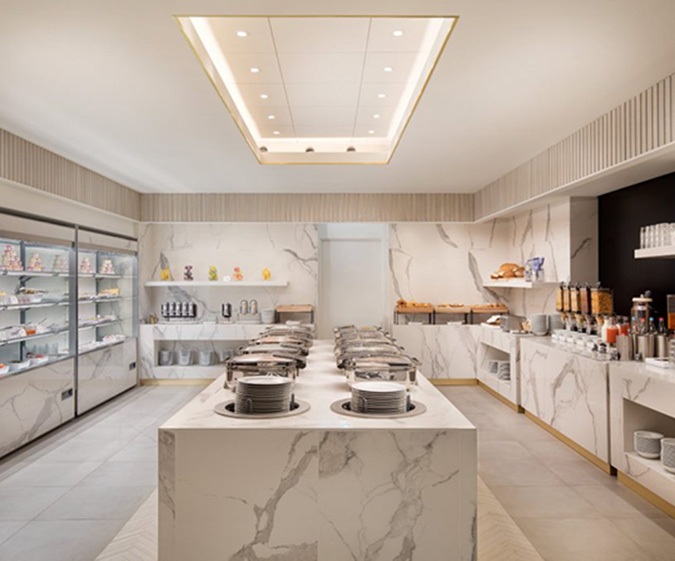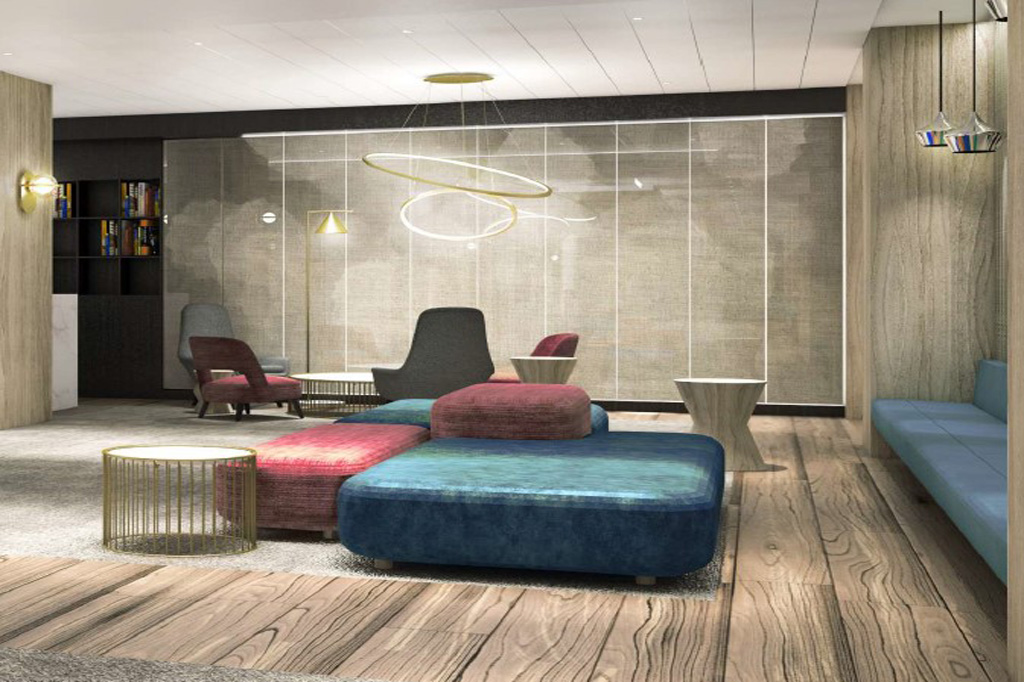 The Hotels' lobbies are increasingly valued and transformed from living rooms of transit to real offices. The Reason? Creating places of aggregation in which it is possible to spend time, converse or carry out formal and business meetings.
The idea is to give space and furniture not only a functional value (armchair=sit), but see behind something more and give it a deeper meaning such as that of conviviality.
We did it at the Crowne Plaza Geneva, not in the lobby, but in the spaces attached to the conference room.
Imagine getting out of a meeting or waiting to get in. What would you prefer; high tables with stools or comfortable lounge chairs in which you can relax or spend a moment of conviviality perhaps with your owner or your collaborators? Wouldn't that improve your relationship?
We preferred the second option. In fact, lounge chairs have been inserted that fit together with each other, custom, with selected fabrics and colors that match perfectly.
What about the wall adjacent to the stairs and the conference room? It looks like a tent I know. That was the goal.
Actually, it's textured, modulated marble with stripled inserts on it. The idea was to create a vibrant effect, lighten the wall and create something that could transmit positive and energetic sensations to encourage work, as they say "good vibes only".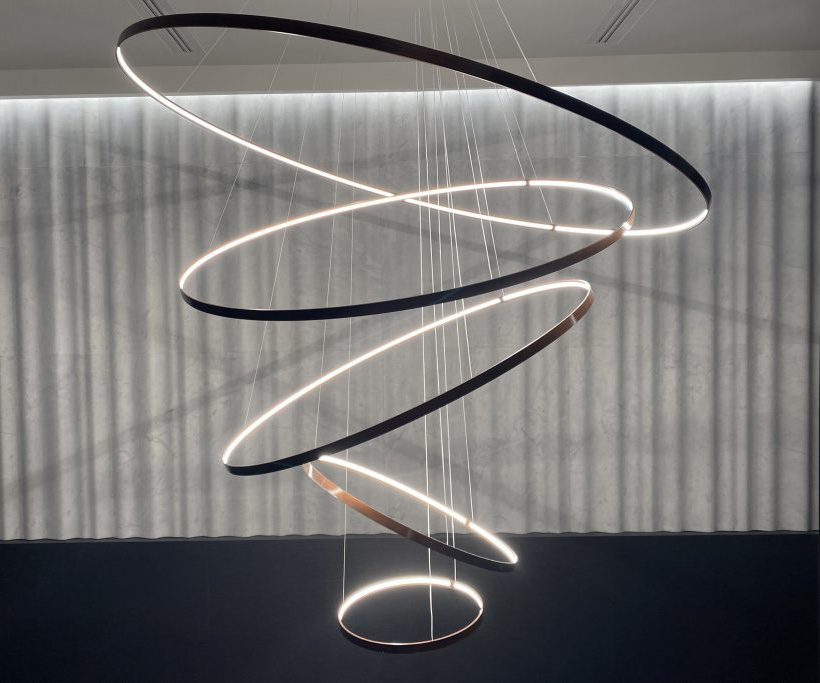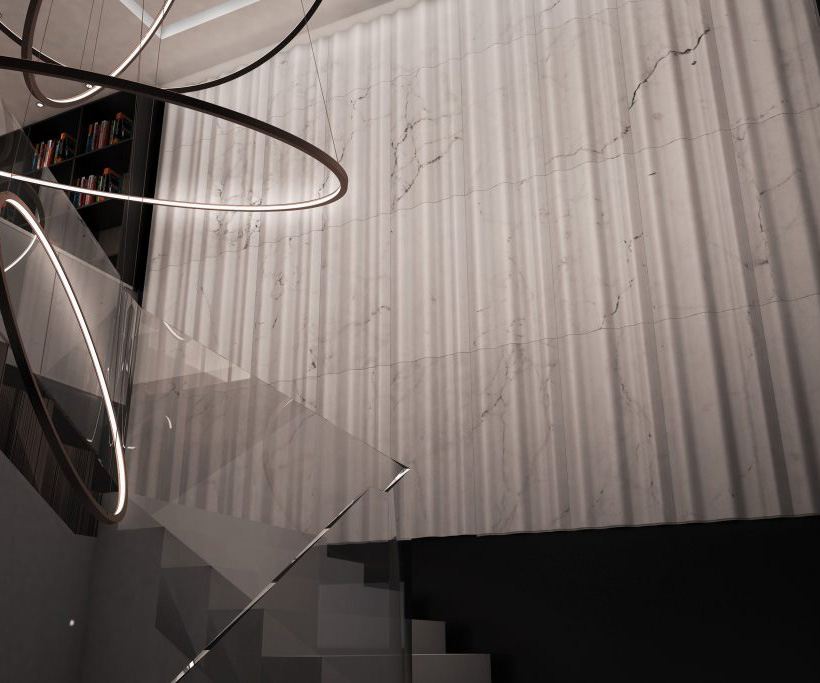 «Make it happen»
And finally the Act. The aim of the Act is to influence the experiences of the guests in first person, lifestyles and interactions, and to encourage them to act.
Have you heard of the Selfie Hotel? Surely if you live in Switzerland, precisely in Lausanne you know it.
For the others, I'll explain, of course if you like. The Selfie Hotel is a temporary and interactive museum that will be installed this summer at the Hotel Alpha Palmieres by Fassbind in Lausanne.
There will be 24 themed rooms where you can take selfies or take memorable shots from professional photographers. The Act dimension is not only satisfied by involving the guest in something, pushing him to action, sharing social posts and then creating a community, but also by the type of content created.
In fact, all the rooms were created to raise awareness and affect people's lifestyle, the themes are recycling, green, the reduction of waste and environmental impact.
I promise, one last example and that's it.
Also in the design of the Student Hotel's spaces has exploited this dimension. Its founder was convinced that the students deserved something better than simple accommodation. In addition to a place to sleep they needed a stimulating space to find their way, to realize their potential, and why not change the world, we always need someone to do it.
The spaces were designed to encourage interaction, to learn from each other, to have their own place where they can find inspiration. 
For this reason the halls are completely unstructured, there are not only the seats, the reception, the bar and the restaurant, but also co-working spaces, shared study areas, video games and much more.
The spaces' boundaries are blurred to promote connections, creativity and fun.
«It's up to you»
I know you've got the urge to make your facility or start a Selfie Hotel project, I've got the urge to go.
Seriously, this is not a perfect manual to become an experience provider or how to create a project in this regard. 
The important thing is to consider that there is no right or wrong way to do it, great ideas arise in the most disparate way and break the patterns. If we had talked about experiential marketing to "fathers" of traditional Marketing they would have thought we were fools and if we had told them that this could be applied to space design, he would have laughed at us.
But today it is the reality, a reality that is becoming more and more important and that cannot be ignored. 
It's only necessary, in any project, focus on customers, just so we can do a good job.
Do you have any ideas in mind? I'll take this opportunity to tell you that we are here to support you if you want.
Author: Anastasia Arduini
Position: Marketing Department
Time flies when you're having fun.
If you want to have more fun, read also: