«There's a method to my madness»
I was thinking about the subject for this article. And so, as a good Italian I wanted to be in a bar to drink something fresh, for us the hour of aperitif is sacred. But not in any bar, in a nice bar, stylish.  
I admit, for professional deformation I always pay attention to the details, the furnishings, the colors of the spaces.
So I said, since I have to stay here in the office (it's 3:00 pm still), why not combine "the useful to the pleasant" and then my work to the aperitif hour, and create a moodboard for a bar?
I'll start by telling you right away, although I guess you already know the meaning, that a moodboard is a style board (creating them is part of my job).
In fact, for almost every project I create one, defining materials, fabrics, furniture according to the requests of customers or architects like you.
The aim is to characterize and make each place unique, giving it its own personality and identity, make it characteristic so.
I don't want to bore you telling you how much study, research, and passion is behind it, but believe me, there's so much.
Let's go back to our bar, today's moodboard is dedicated to everything that can make this space attractive and engaging.
It is important to have a clear idea of the style you want to recreate and consider that a bar usually performs different functions, so the choice of furniture must be accurate.
I imagined creating for you a moodboard that would reflect a classic timeless place.
Are you curious? Read more.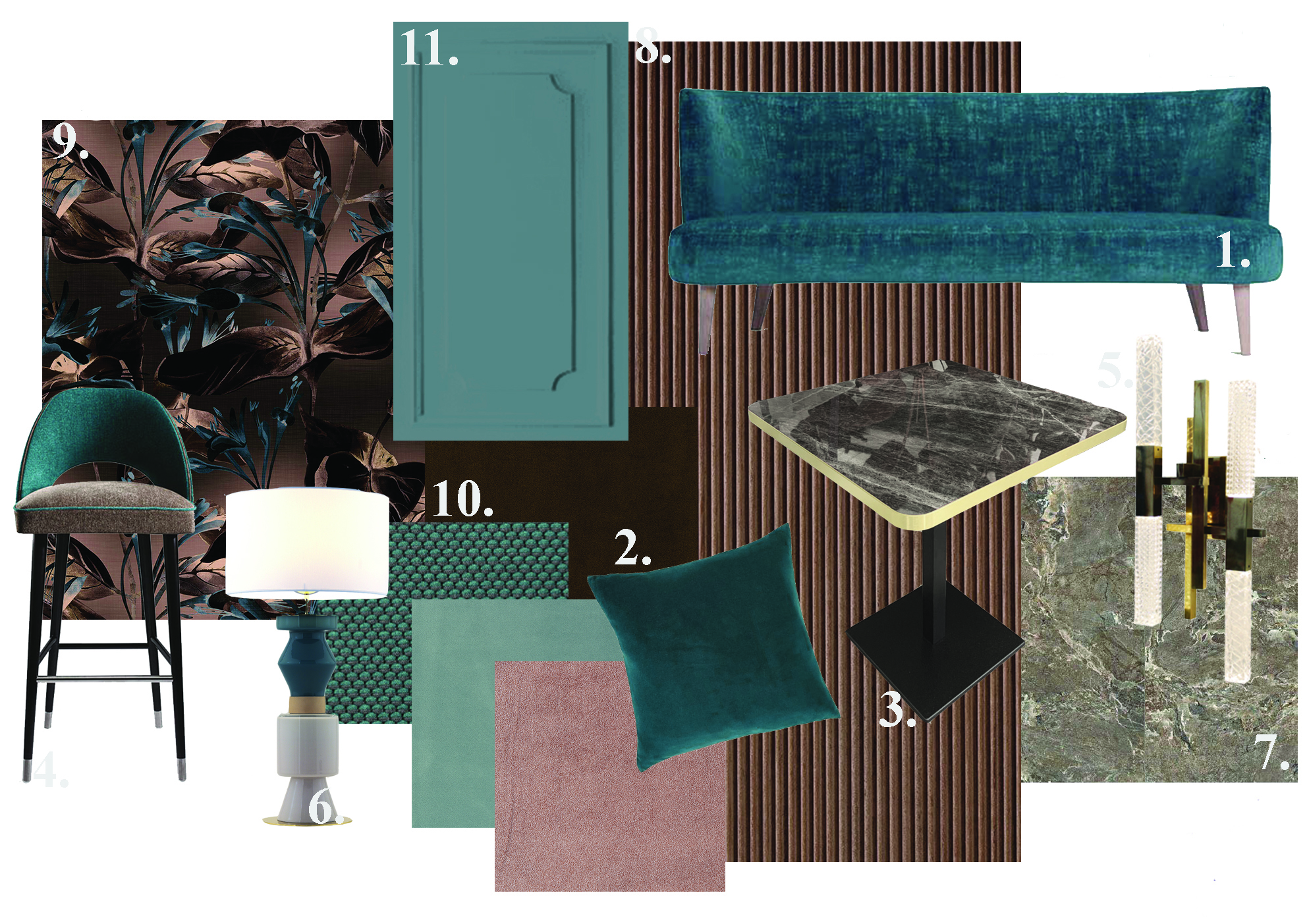 «In this moodboard we find:»
1. Royal blue sofa 3 seats.
Sinuous shapes, the concept of "family" makes the collection suitable to furnish different areas of the project, in fact the style is the same and also fulfills different seating needs. 
Can I add my own comment? Yes I do. This sofa is very comfortable, the customers will sit and will not go away anymore. What can I say, seeing is believing. 
2. Royal blue velvet pillow.
This velvet pillow gives a touch of elegance to the project, the finishes in a dark blue tone make it perfect for a wide range of interior styles.
Yes, I know, pillows only have decorative function, but I personally love them. A sofa without pillows looks like a mojito without mint leaves on it (staying on the theme).
3. Metallic edge brass table.
This table is a real trend in terms of furniture for restaurants, bars and Hotels.
I personally guarantee (do you trust me?) that the solid foot makes the table not wobble, I hate when it happens, and putting the cardboard under to solve the problem is not aesthetic.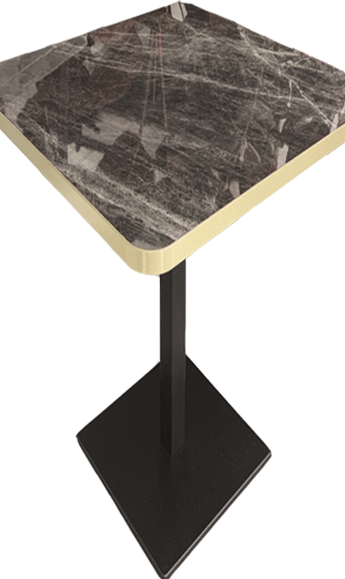 4. Bar stool.
Solid beech wood structure, padding on belts with high intensity flame retardant foam.
The padded backrest makes it perfect to enjoy a long aperitif (in Italy after 20 is called "apericena") and stay late. Stop with rigid stools, they're beautiful, but uncomfortable.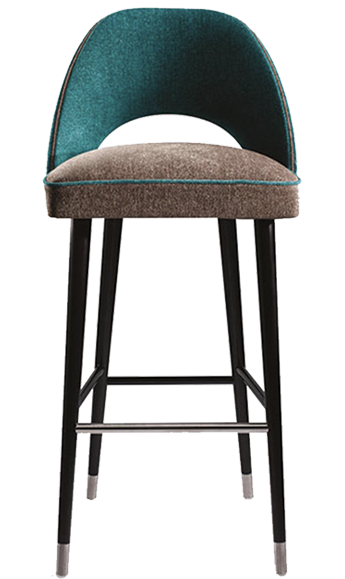 The collection is characterized by the combination of rectangular brass tubes and parallelepipeds in engraved glass, with two types of processing. Think, the name "Mikado" comes from apparently random combinations that instead follow a precise pattern.
Collection of table lamps designed by AC Studio for Aromas del Campo in coloured glass with fixed arm.
The collection combines elegance, sophistication, brightness and poetic onyx with porphyry grafts, a discreet and informal stone material. This allows a material with a strong expressive charge that plays on the harmonic contrasts and on the chromatic blend that only nature is able to give.
8. Plyboo by Smith & Fong.
Plyboo is an architectural bamboo plywood, can be used in a variety of applications, including interior wall coverings, suspended ceilings, retail displays, furniture construction and much more.
This revolutionary coating is the result of the collaboration between Inkiostro Bianco and Mapei. It has a dubious function, decorative and protective; in fact it has greater stability, efficiency, lightness and flexibility if we compare it to a traditional wallpaper.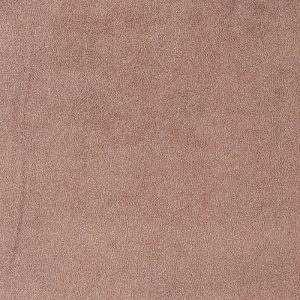 Flame-retardant knitted fabric made of a single body, which makes it ideal for making upholstered furniture even with special rounded shapes for hotels and public places. The thin fleece is very soft and pleasant to the touch.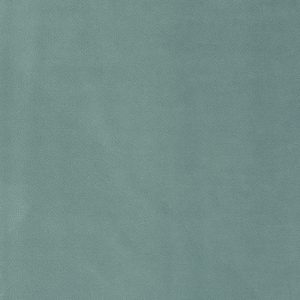 Fire-retardant velvet of high quality and beauty, the slightly opaque appearance is suitable for any type of style, classic and contemporary. Demitec combines elegance, enveloping textures, the prestige of fabrics with the high technical performance typical of contract fabrics.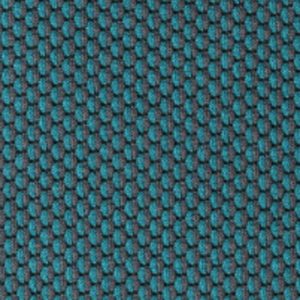 The multicolored drop is a slightly three-dimensional, playful knit fabric that creates different perceptions based on how the fabric reflects the rays of light from different directions.
11. Decorative frame by us.
Frame for ceiling and walls with embossed designs with clean design, choice to emphasize the outline of the ceiling, create panels on the walls or around the doors and more, to create elegant boiserie.
We made lots of them, they're like parsley, they look good on everything.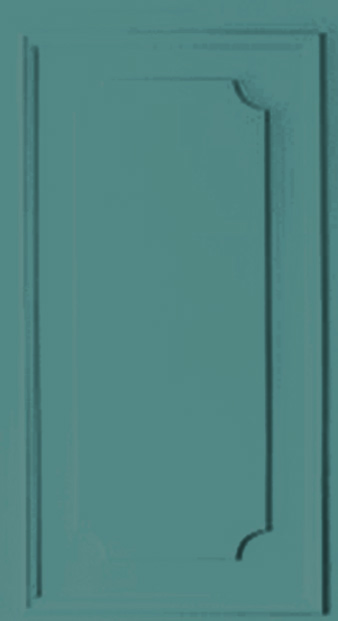 «A picture is worth 1000 words»
Do you understand the great work behind creating a moodboard even though I didn't explain it to you? Every time, I amuse myself by searching among the thousands of catalogues that I have in my office, contacting and asking estimates to the suppliers, appealing also to my experience and knowledge in the field, the right complements to make each project unique and characteristic.
Did you like this idea of style to decorate a bar? I hope so, I'll be back soon to write more.
If you really can't wait for the next article, but you want me to make one for you, click here.
Author: Irene Izzo
Position: Design Manager
Time flies when you're having fun.
If you want to have more fun, read also: