«Easy does it»
Let's take the title "literally" and proceed calmly. I would start with the presentations, public relations are my forte.
I'm Moretti, CEO of Gitaly. After almost 50 years in the company I felt the desire to tell my experience, even though I'm already doing it, because everyday, to work successfully, I try to spread and transmit to my team what I've acquired in these years. 
But today I want to do it for you. I know what you'll think, what do I care?
Instead, you should care, the reason? I repeat, we proceed calmly.
You have to trust me, moreover trust is the basis of our work. 
When customers entrust us with a project, they trust us, and so must you.
I'm telling you, no one's ever been disappointed.
«The whole world is a country»
Well, back to us. In almost 50 years of work, I had to deal not only with different projects but also with different realities, ways of working, requests.  
We've done almost 400 projects, I'd say it's normal, it's the risks of the trade, let's say.
We have never set geographical limits.
Of course, as I have already anticipated, the obstacles to be faced are different, and when I say that the whole world is a country, I say a great truth.
I can affirm, from experience, that wherever you go you must be prepared, because there will be plenty of problems and many will depend on the very nature of the place.
But what do you say? No pain no gain. 
Build around the world… Yes, in these years we haven't only built in many places, but we also collaborated with architects from different parts of the world.
I was "born", and I would add, "I grew up" as a foreign agent, so working overseas never scared me, in addition  I always had the certainty that I could count on my team to do it.
But let's get to the point, what are these famous issues that need to be faced?
«...the elephant in the room»
….What's the elephants got to do with it? They center, because for those who do not know, "the elephant in the room" is an expression typically used to indicate a problem or an annoying truth that you do not want to face.
And what is this truth in this case? It's that: you have to be organized to build in different parts of the world, not think you are, but really be.
Yes, because not only is it necessary to be able to manage relationships with clients or architects or construction companies located abroad, but it is also important to be able to monitor the progress of the work and keep the situation under control. 
Of course, today's technology helps keep in touch, but that's not enough, and then, as I said, Gitaly has always worked abroad, and the words "conference call", "Skype", "Google meet", didn't even exist.
We also think that the direct relationship with the customer is important, and then imagine monitoring a construction site at a distance, would be unthinkable.
So how do we do that?
Simple (to say no to do), we are always present on the spot, we have construction site meetings in front of the project managers , we "move" project managers and specialized personnel to the place, and of course, we organize the famous "conference call" or simple update calls.
In addition, we have agents who help us manage and maintain customer relations.
I go to Geneva, together with members of my team, almost every week, for meetings with customers, to monitor the construction sites, to manage the different companies (we are in the contract sector) and to ensure respect for the quality and performance that have always distinguished us.
And we do this both in Geneva, a city in which we have been working since 2002 and which is now a comfort zone for us and in all the countries where we are working.
In partnership with the Piccini Group we have realized different projects in Africa.
And if it is difficult to manage the organization in Geneva, 7 hours "from home", let alone in Africa, on the other side of the world.
But we succeeded, moving from Italy 2 project managers, 10 internal staff members who followed the different construction sectors and organized precise and advance planning. 

They were complex projects, such as the Oyala Place Complex in Antigua, of which we built all the interiors of the Hotel and 50 villas.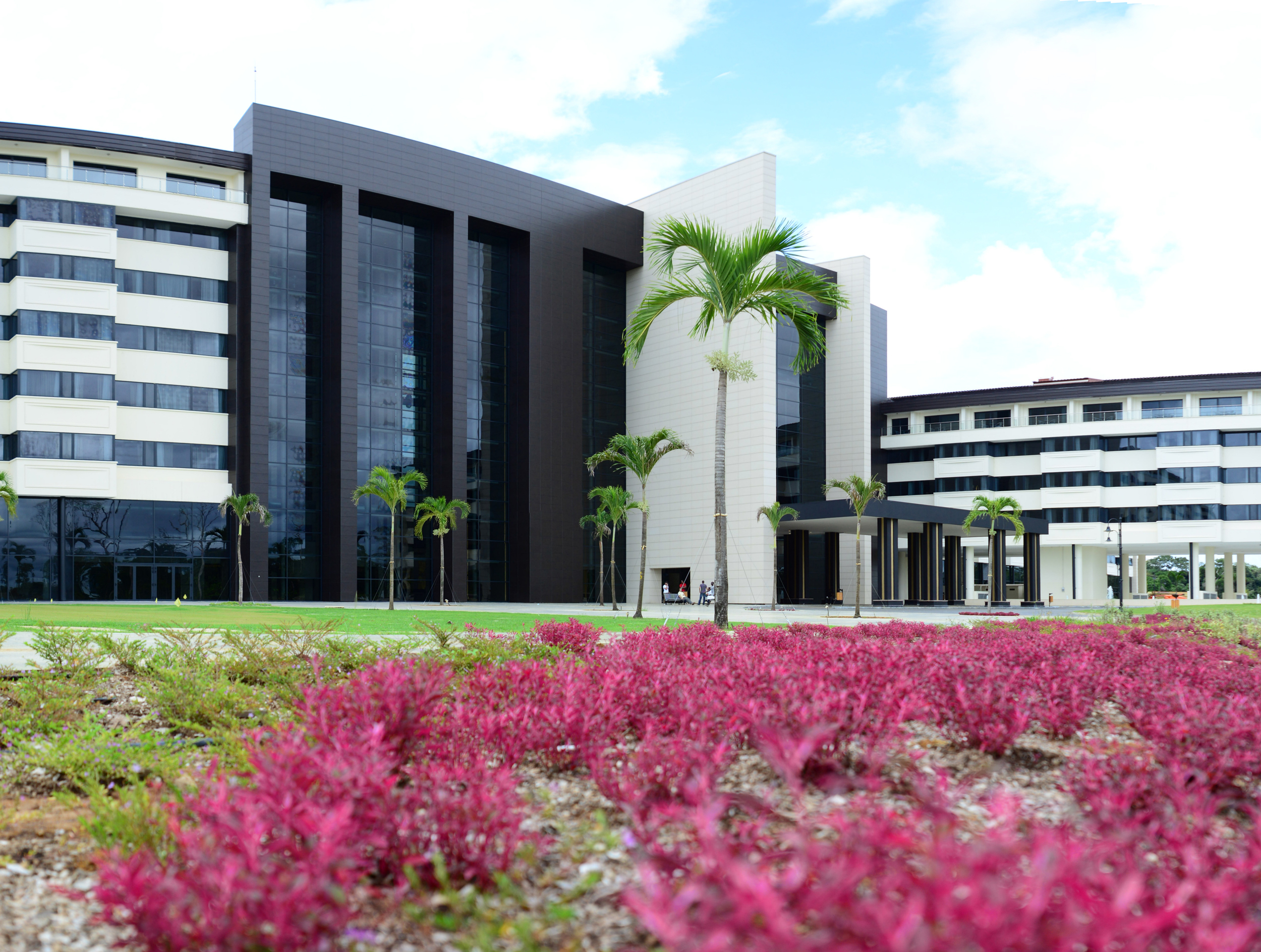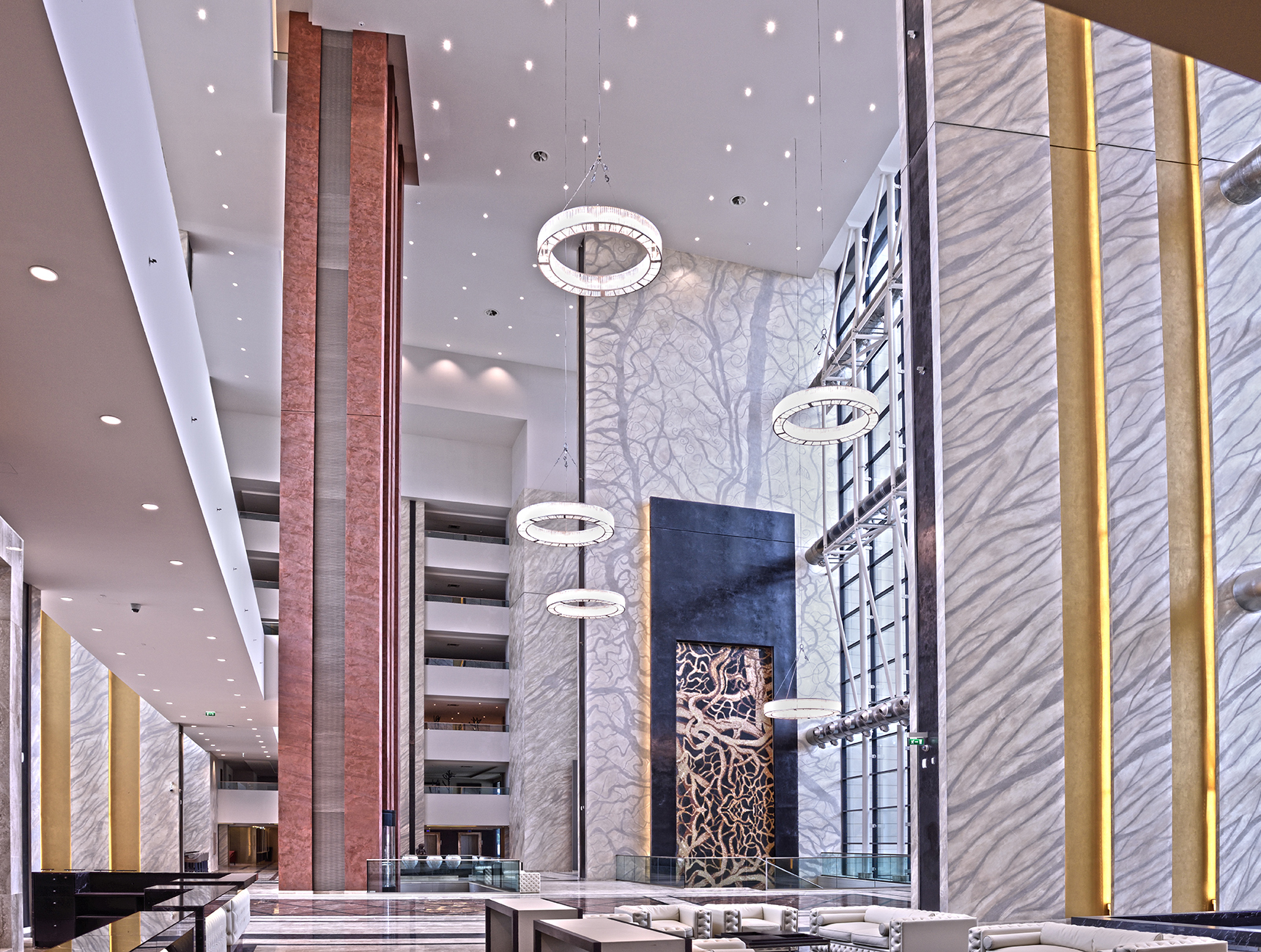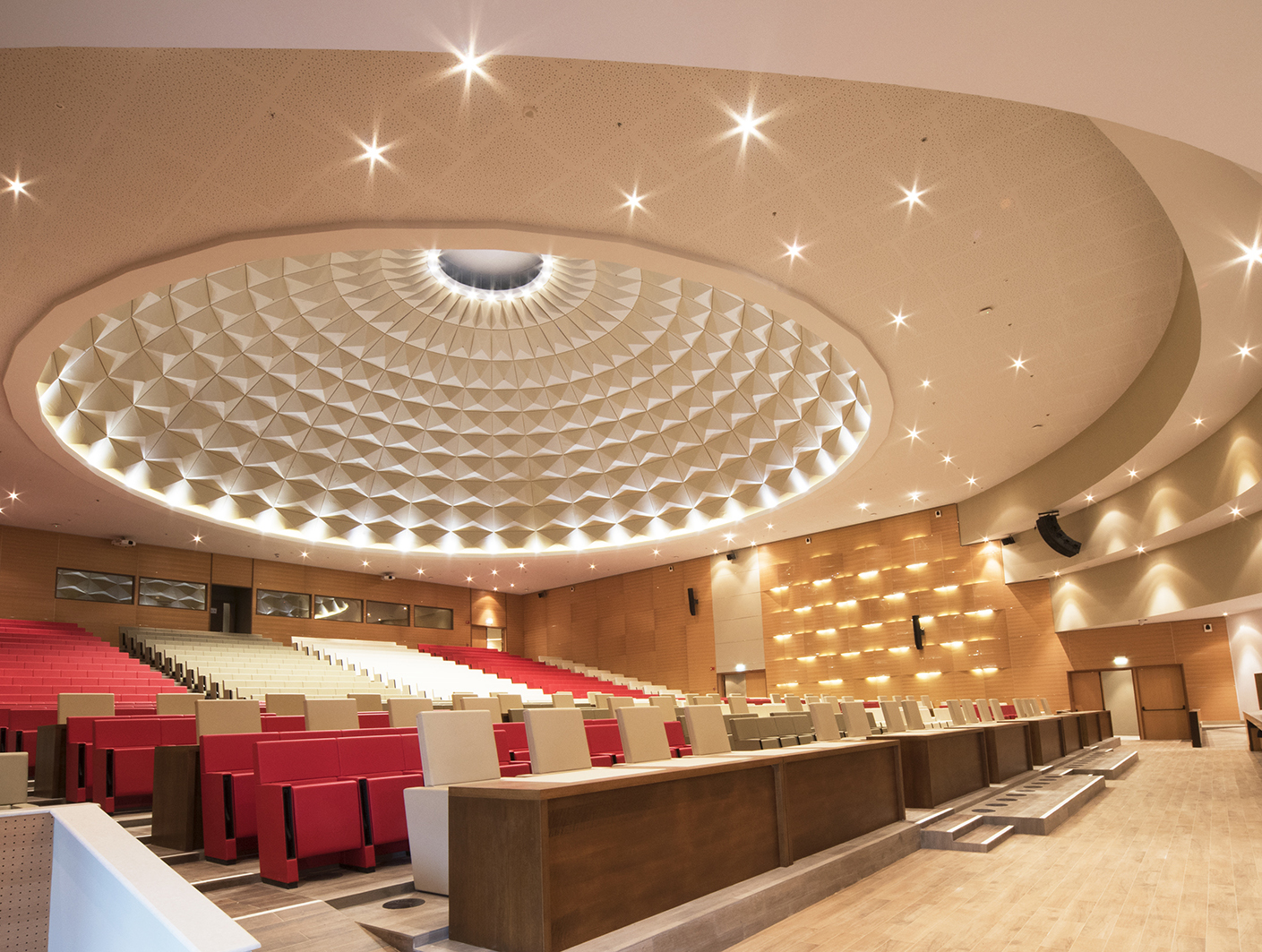 «...on thin ice»
Another problem? The logistics and we would add the installation.  
If you really have to do it on the ice, the conversation gets complicated. 
Yes, because for the Edenarc 1800 project located in Mont Blanc, we had to manage these two phases in adverse weather conditions.
The delivery was estimated for January, and to respect it, we worked and managed a yard even with the presence of two meters of snow.
The trucks that transported the goods have arrived at their destination thanks to the snow cats that were driving them. 
And the installation? I personally spent days and days climbing the furniture with the freight elevator.
But the result and satisfaction of our customers have rewarded us with all our efforts.

Not that things are easier elsewhere. In Geneva for example, being a city, is busy and spaces are restricted, many events are also organized that can include the closure of stretches of road.
Therefore it is necessary to seek appropriate solutions at the logistical level.
Also for the projects in Africa we had to organize the logistics at best and anticipate the purchases of the supply.
In fact, the transport took a month, because the delivery was by container and then truck and, in addition, local infrastructure is not very efficient.
The same goes for the projects in Greece, where we have managed double transport by truck and by ship to respect delivery times even in remote places.
In this case it was necessary a precise coordination between the shipping office in Italy and the team members present on the spot.
«We see eye to eye»
The last problem I want to talk about, not that there are no others, is related to particular requests or certain aspects considered important that require adaptation of our work.
Obviously each project is different, as are the style, the requests, the needs of customers, architects or companies like yours and we try our best to make each project unique and highly customized. 
However, I think you'll agree with me (right?), that a seaside structure must differ from a structure in the mountains, then we also built a hotel in the center of Geneva in chalet style, but this is another speech. 
But, not to be trivial, by special requests I mean the client's or architect's desire to recreate something, that is a furniture, a piece of furniture, a finish, linked to the place where the structure is located.
An example? Also for the Edenarc 1800, we have been selected by the customer because we have been able to realize better than others and respect "to the letter" the drawings of the architect, regarding two particular details.
The details in question are the wooden feet of the coffee table in the living room, which have a spherical shape and in which we managed to set the Savoy Cross. 
The other detail concerns the decorative wooden panels that have been printed by us inserting textures and symbols belonging to the Kingdom of Savoy.
All this was requested by the customer to create a link between the Hotel and the precise place where it is located and then with history.
Also in Greece, precisely in Sparta for the Hotel Menelaion, we managed to realize and to give life to a particular request of the customer always in this direction.
The Hotel Menelaion, owes its name to the king of Sparta Menelaus and is a historical building, located near museums and important places of the city and therefore the style is strongly influenced by history, vicissitudes and by the geographical place where it is located.  
For this reason we were asked to build and create elements reminiscent of Greek history such as bas-reliefs and prints.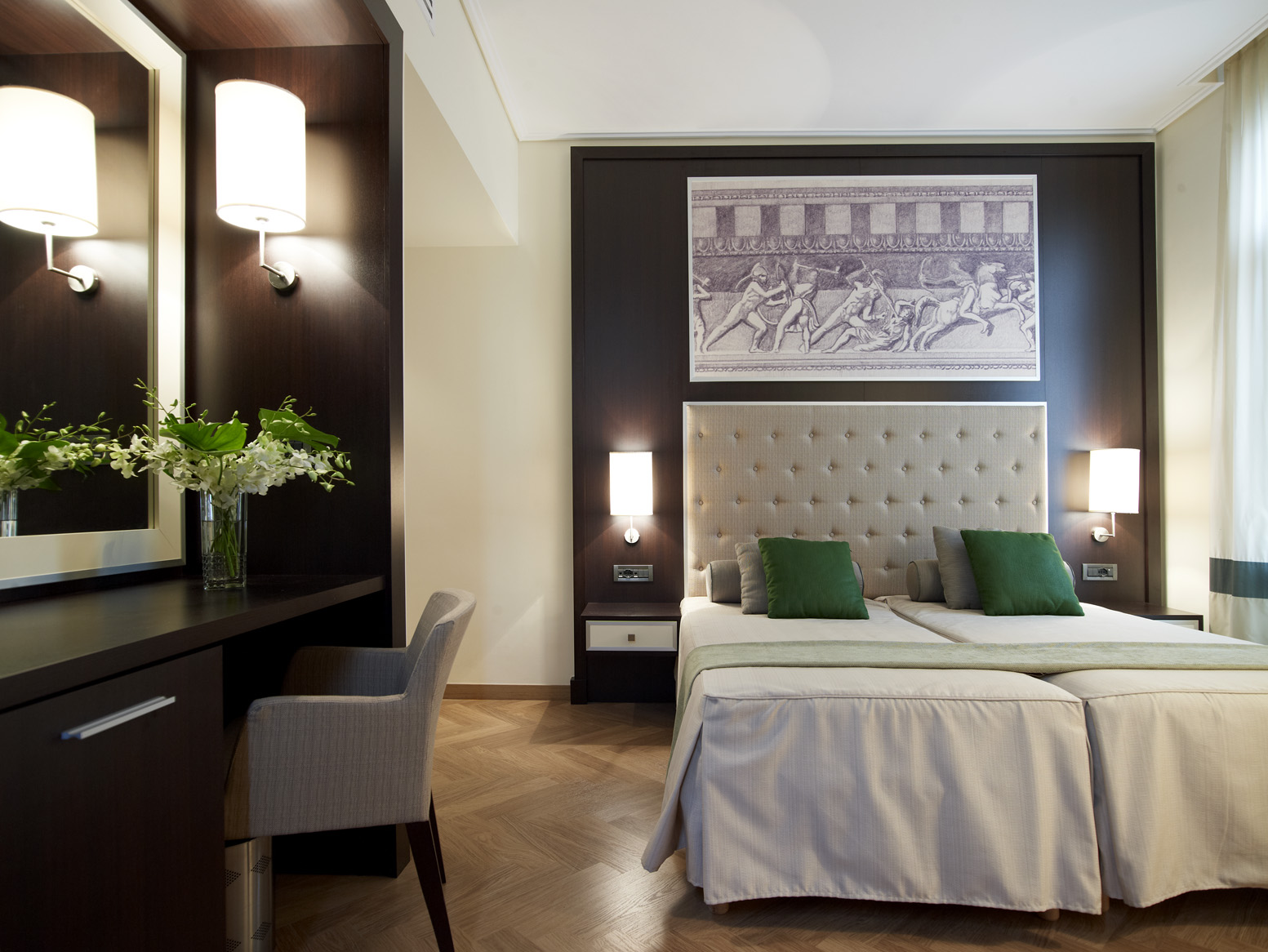 Last important thing. It's necessary to know the market and the aspects considered important.
To do so, the famous experience comes back into play.
That experience that allows us to build and satisfy our customers in Geneva for 19 years now, and to believe that one of the most important aspects for the Switzerland (if you are, I agree if I'm wrong), is punctuality.
For this reason we work every day establishing and following precise planning, considering the fact that we are a contract company and therefore we must coordinate with other companies.
«The ball is in your court»
Obviously we have carried out projects in other parts of the world; France, Cyprus, Spain, Morocco, in our homeland Italy.
It is not by chance that the article is called build in the world.
But an article is not enough to tell you all the work experience of these years. That's why I refer you to this page.
And now, to conclude, let's return to the famous question of the beginning "what do I care?".
I'm finally telling you why you should care.
Because, that you want to renew, modernize, redesign the facades of your structure located in the middle of the forest, or on the slopes of Everest, or in the middle of New York rush hour traffic or on a desert island, or you have to manage a project or a construction site in these places, we are able to support you and do it well.
How? Manage these and other issues, and I proved it to you.
Author: Edgardo Moretti
Position: CEO
Time flies when you're having fun.
If you want to have more fun, read also: