«Not one but three pairs»
Well, before I get to the heart of the matter, I want to take away a doubt. Why do we feel the need to "wear your shoes"? It seems almost obvious the answer, but maybe it isn't, so I say it: to understand you better.
Yes, because what we try to do every day is not to look for customers to whom we offer our solutions but to find solutions for our customers. Okay, I stole the phrase. But I hope you get the point. Every time we are entrusted with a project, we analyze it in every element, interpreting requests and needs of that specific client.
In fact, for us no project is the same as the other, you are not. For this we cannot and we don't want to offer you the same solutions. That's why the way we relate, what we offer is different every time.
In essence, we try to shape our work according to the needs of the customer that we are facing at that precise moment.
Do you follow me, no? Just a moment. I want to take away another doubt. Why not one but three pairs? (I refer to the title). 
The answer is very simple, because you, our customer, who at this moment are reading this article (I hope), you could be an owner/director of a structure, or an architect or work in a construction company (if mathematics is not an opinion we have come to three pairs).
Here, these are our three types of client, and you'll understand that each of you have different needs and demands that we try to satisfy by offering different things. If you are an architect you will not require us the same things as a construction company (for this reason we have also decided to dedicate a different page to each of you on our site).  
Obviously, each project is a unique artistic gesture for which even the same type of client will have similar needs for some aspects but at the same time heterogeneous. So, the pairs of shoes we wear are many. But enough about us, it's not an adv, we're talking about you. 
«The first you»
I state, it's not an order according to importance, you're all important to us.
I'm talking about you, owner, facility director, realestate, hotel purchasing manager. But stop it all. If you aren't among them, I advise you not to skip the reading and not to go to the next paragraph. Yes I know, our articles are always a bit long (we have a lot to tell you), and you can't wait to leave out parts that surely do not interest you. But I ask you not to, because you do care. If you are an architect or work for a construction company I imagine that it might be useful to know or review something about your customers, that maybe often, are the same ones I mentioned above. 
So, even if in this paragraph you are not directly "called into question" and even if with the word "you" I do not address you directly, know that I wrote this paragraph for you too. 
Over the years, for 30 years now we have been doing this work, we have understood that what interests you most (owner, manager of a structure, Realestate, purchasing manager of a Hotel, I repeat) is the final result. Obvious no? FFor you it is important that everything positively affects the judgment of your guests, you do it for them, as we do for you.
How romantic we are today, I know.
For this you need concreteness, and for this we dedicate a wide range of services offering you an overview of the project, implementation and budget, from the earliest stages. 
You also need that every aspect of the project must be functional, technical, respectful of the rules and standards imposed by legislation or your brand, but at the same time great from an aesthetic point of view. And how to blame you.
And what do we do for you? First of all we listen to you and then we put our knowledge at your disposal to be able to optimize every aspect of the project and realize together the best solutions.
I'll tell you more, our consolidated experience (we often wear your shoes), allows us to choose, to advise you, to propose to you the materials, the elements, the solutions, the most right and performing items for every type of environment.
An example? Maybe in your project you have inserted marble to make the bar counter, or the flat tables of the breakfast room (beautiful marble), but we, knowing that it is a very delicate material not suitable for this function of use, we are looking for and we propose a material that looks similar to the eye but that is more performing from a technical point of view.
We also know, in particular in the case of a Hotel, that the needs contained in a project derive from a plurality of subjects. And so we sit at the table, we hold meetings, for example, with the heads of Food and beverage to integrate their requests into the realization.
Besides, let's be honest. We verify feasibility, safety of every aspect of the project and therefore we are able to indicate what you can and what you can not achieve and/or if you can do it better.
I also told you that every project for us is a unique artistic gesture, which must be distinguished from the others; for this reason we characterize it both with elements of known brands and with custom solutions, custom designed and made for that specific customer.
«Actions speak louder than words»
You know me and you know I like to be concrete, yes, for me actions speak louder than words. That's why we make the facts, we concretize what I said above.
A unique gesture, different solutions, feasibility, right stylistic and technical choices, functionality and so on. All beautiful words, but how do we make them real every day?
Of course I'll give you an example, I don't know any better way to follow up on words than by giving examples.
Let's take the Crowne project. If you know us and have visited the projects section you will ask me which one. This is where I want you. Both; that of Geneva and that of Zurich. Same client, same chain. We could replicate what we did in the Zurich project to realize the Geneva project. But we didn't. Why? Simply because we were able to listen to different requests even if coming from the same customer. We have interpreted the different destination and use of the spaces, a totally different project and the desire of us, of the client and of the architect to personalize and distinguish the two Hotels, including different custom solutions, while maintaining the values, the standards of the brand.
For example, the custom counter in the breakfast room at both the Crowne Zurich and the Crowne Geneva can look similar, but they aren't.
In fact, the different shape of the furniture, the choice of different materials, the updating of the technology of the induction plates and the customized request of the customer, have ensured that each of the two pieces of furniture is a unique element, different in conception and in realization.
«The second you»
All right, let's move on to you, architect. I ask you, the same favor I asked before, if I haven't spoken about you yet or I have already spoken, continue reading, we know that you continually deal with architects.
I know, maybe because I'm an architect too, that when you contact us, you do it mainly for two reasons. You have very clear in your head and on paper the project for your customer, but you need to know how much it costs, ask us an economic analysis of the project, or to realize the detail drawings of solutions you idealized, especially when they are custom furniture.
We can meet both of these needs. We are able to quote every element both custom or purchase and every type of intervention needed (paintings, masonry works, etc.), and to provide you detailed drawings of each tailored article of the project (we have a technical office at your disposal to do this). We can also count on the fact that many things, thanks to our experience, we already know how they must be realized.
In addition, doing this work for many years now (even your shoes we have worn very often), we can offer you indications and we are able to propose to you the materials more performance for your project, suitable to meet both your requests and those of your customer.
For example, in Villars Alpine Resort' project, the architect had chosen wood as a finish. The material chosen, however, had very long supply times, which did not respect the customer's timing, so we put in place a research to identify a similar material that could satisfy both parties. We know how important your client is to you.
Okay, I'm gonna go out on a limb. Our strength lies in the fact that we have a broad competence; our team is composed of a plurality of people, with different roles, skills, experiences and this allows us to understand every aspect of the project. We understand the artistic gesture behind it, thanks to our architects, designers, and we can translate and concretize the intention thanks to our technical office.
Wow, that sounds like poetry.
But if you're not convinced, I'll give you just one example. For the Crowne Plaza Geneva, we collaborated with the architect and designer Celia Chu who had chosen finishes available only in the market where his studio is located (Taiwan) and therefore impossible, for many reasons, to buy them.
Understanding, however, the intentionality of the architect, the stylistic choices and the concept, we have remade all the moodboards and the sampling inserting variants available but at the same time able to "go" towards the direction desired by Celia Chu and by the client.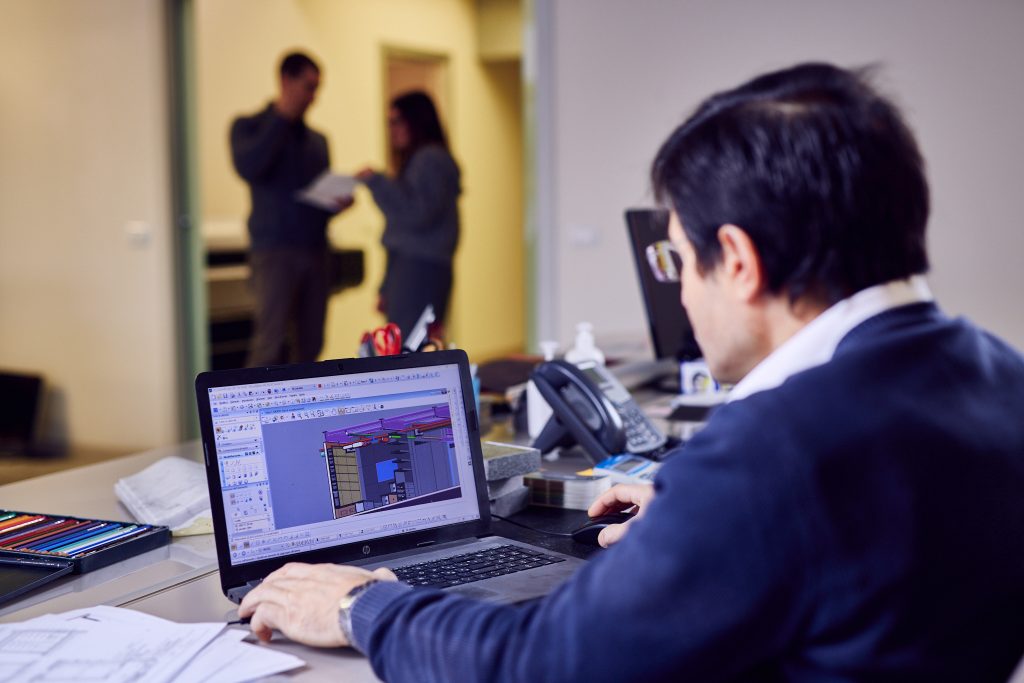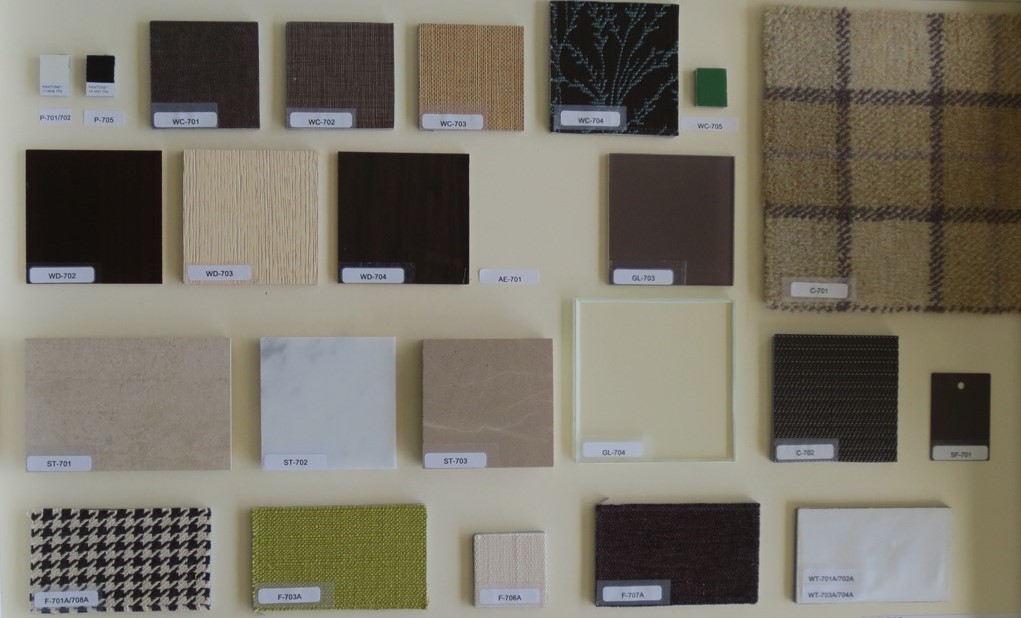 «The third you»
If you remember how many "pairs of shoes" were, you know we're almost done with the article. The last but not the least, you, what we define, with a general term, construction company.
What about you? Ah yes, I start by telling you that we partly do the same work as you, so we fully understand your needs and requirements.
I'll tell you two, the most important in my opinion (then let me know if it really is). Budget and timing. Am I right? For this reason, when you contact us, we provide you with a detailed estimate of all the elements that make up the project, "breaking" them down into all their parts. We check, in advance, before inserting it, that what is quoted is available and respectful of the fixed timing and, if it isn't, we provide you with alternatives.
In essence, we focus on the timing and costs of purchasing, production and installation, thus respecting your deadlines and budget.
And you're gonna tell me, can't you put the organization in? Of course. I'll tell you what, we guarantee our presence at all times. In fact, thanks to our organizational skills we can manage all the teams present in the construction site or the various problems that may arise. We do that not only at a distance, but we ourselves get our hands dirty, attending and checking on site the progress of the work.
But you think I don't set an example for you? Of course, I want to end on a high note. Let's talk about the Hotel Nash.
The society of construction Grisoni Zaugg contacted us in mid-summer and by the end of October we had already delivered and installed all the materials. So, in this case, thanks to our organization, we have placed the focus on velocity of execution, but always respecting all the steps necessary to assure a quality final result.
We managed to coordinate the production, logistics and installation respecting the deadlines that we had agreed with Grisoni and the client.
Here we are, we have reached the end. I hope you understand how well we know you and how much this aspect allows us to understand you, realize and give life to all your requests.
But if you have more requests or want to deepen something, we are here, always predisposed to comparison, write to us (this applies to all).
Author: Elisabetta Boldrini
Position: Commercial Manager
Time flies when you're having fun.
If you want to have more fun, read also: