«Well begun is half done»
Let's start… I can't find a good way to start and yet the beginnings of custom design projects are so romantic, everything seems possible, achievable, easy… but what it seems to be is deceiving.
If you want to make this type of project come true, you have to face a number of challenges and issues.
First of all, you need architects (like you or like us) who are able to develop the client's idea… no, wait, let's take a step back… first of all, you need clients (like you) who have an idea, a desire, a dream, an effective concept in mind, and then companies like Gitaly are essential, who take care of all the project development phases, from the detailed drawings to the actual installation and assembly.
Let's start from the beginning: the idea.
You need to always have one in mind, original and innovative. You need to decide what kind of look you want to give your Hotel, what style you want to embrace, what kind of experience you want your guests to have, because you know, their opinion is what counts in the end.
Obviously, what you want must be feasible, or at least you have to think it is (so: no donkeys flying!).
Let's move on; the development of the concept.
We need just as much skill, it's a matter of making concrete on a sheet of paper, or rather on AutoCAD or 3D Studio (we're technical people) without forgetting Photoshop, what the client has idealized, trying to make everything feasible and achievable.
Well, l'm already feeling the sense of fatigue you're feeling (it's normal), but it's not over yet because, as we've already said, all this has to be made real, it has to be turned into real furniture, facing all the difficulties that this entails (don't worry, we'll take care of that).
Just to get you even more in the mood, l want to give you some examples of custom design furniture we have made.
«The devil is in the details»
In my opinion, there is no better title for this topic.
That's right, the devil is in the details, an expression invented by Gustave Flaubert used even nowadays, especially in custom design projects.
This is because designing in detail and then making something that does not yet exist or that exists in a different form, in a different material, always hides problems to be faced, which sometimes require the revision of the design itself.
Here, I want to tell you about those details (which are not so secondary because they affect the success of the furniture itself) that no one ever talks about, through some examples of custom furniture for the Hotel Marmont of M3 Hospitality.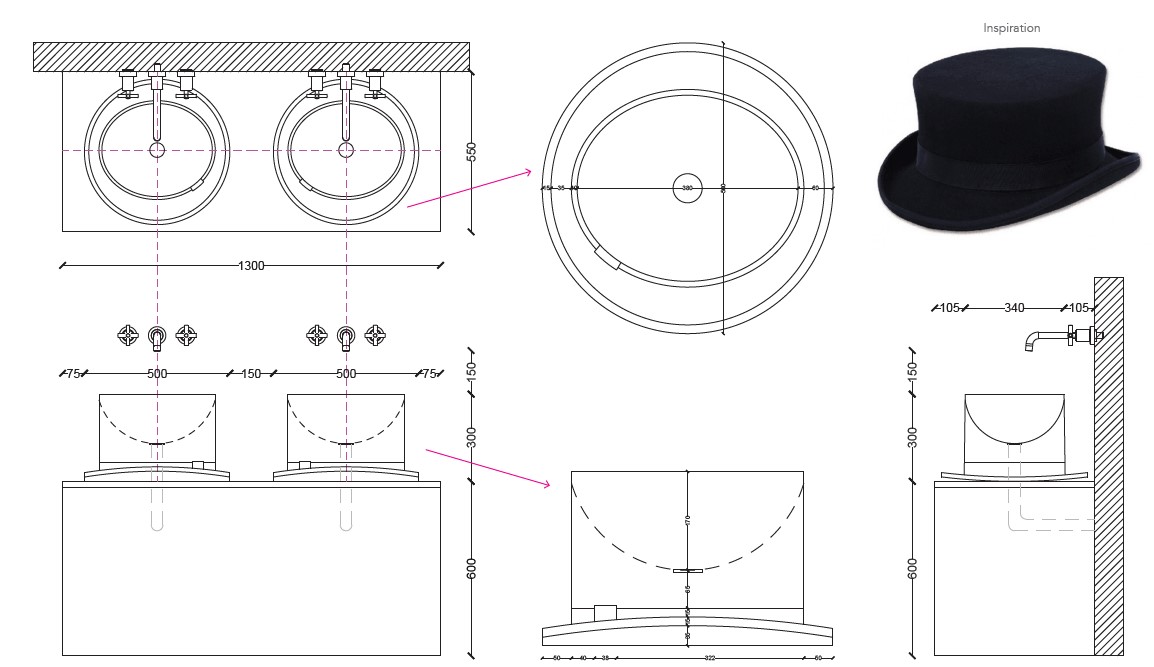 «Chapeau»
The title is not chosen casually, it is not only a nice way to describe the custom-made washbasin l want to tell you about, but it is also a way of thanking my team, the architects, the client, suppliers and craftsmen (I hope I haven't forgotten anyone) for having made it.
M3 Hospitality has a clear idea of wanting to personalize each of its Hotels by giving a unique shape to the washbasin in the bathroom of the rooms, a uniqueness that must be connected to the context in which the building is located.
For the Hotel Marmont, the initial idea was to make it in the shape of a cup, essentially similar to the one designed for another M3 Hotel Ferney Voltaire Genève Aéroport, but to make the project even more centred, given that the Hotel is located on the famous Princes Street in Geneva, it was decided to give the washbasin the shape of a so-called "prince", the classic top hat emblem of the 18th century to which the building dates.
All wonderful, but the problem was to make it.
Do you remember the famous details and challenges l mentioned earlier? (If the answer is no, scroll your mouse button up). Well, in this case there were several.
First of all, the design in detail considering all the engineering elements in order to be able to move on to the production of the article.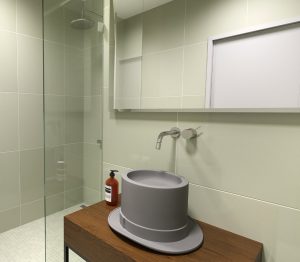 It was also necessary to find a durable material (having to use it for a washbasin), which could be moulded, sculpted, cut and jointed to achieve the cylindrical shape designed; after several studies, corian was chosen as it was able to perform these functions and give the final result a continuous line.
I guess you will agree with me that making a washbasin worthy of being called a cylinder and working with the corian sheets, bending them to give it this shape and joining them to the other elements is an arduous task.
Which is why we had to make a multitude of different samples in shape and colour to find the right portion and approve all the details; l can't deny you (l would never lie to you) that at first the result was not the best, but we went ahead.
Just when it was about to get better, something happened: we were told that the shape resembled (not by our own will) the hat used by a well-known historical figure, who is not very famous (l won't name him, l'll leave the research to you), so we had to recreate a new shape.
I can anticipate that we succeeded.
«Post tenebras lux»
Well, if you are not bored of me already, l would continue the discussion, telling you about another customized piece of furniture, other details, another challenge.
Still for the Hotel Marmont we were asked to make customized bedside tables, similar to those already made for M3 Hotel Ferney Voltaire Genève Airport. We know (thanks to the famous figure) that similar is not synonymous with easy and not always a positive meaning.
These bedside tables differ from the others in that not only for the cylindrical shape and legs, but also for the method of reading the message, chosen by M3 consistently with the design, backlit.
Precisely in this last detail lies the devil.
In fact, the client's request was that the message from which the light comes out carved in the sheet metal be projected and read on the floor.
Unfortunately, not everything turns out as it should. The rooms, although large, are not big enough to project the message from the bedside table onto the floor, so that the quote could not be read in full.
For this reason, although the concept had already been prototyped, we had to rethink and redesign it, choosing to turn the writing upside down so that the message could be read directly on the bedside table.
It wasn't easy; for the prototyping and testing of the product we had to improvise as real artists, sometimes even abandoning technological progress, by using cardboard.
«Meuble de Vie and Meuble Chariot»
This time I didn't have to think of unusual titles to try and impress you, the name given to this furniture by the client is wonderful in itself.
The "Meuble de Vie", so called because it is the "living furniture", the real furniture of the room, was designed to be able to make the most of it.
Together with the architects, we had to make sure that this piece of furniture could fulfil various functions: TV stand and safe, desk, coat rack with mirror and bench/suitcase rack. All of which had to be kept to the minimum size, and the maximum depth had to be 20 cm.
Of course, it had to fit in completely with the style of the room.
In order to make the furniture as good as possible, it was necessary to make several revisions in terms of design and samples, because it was not easy to adapt it to the different functions and to make it flexible to meet the client's diverse needs.
From a stylistic point of view, after considering various alternatives, in order to make the piece of furniture essential and in harmony with the vintage atmosphere that dominates the whole, we opted for brass-coloured tubular structures enriched with grating modules in the same colour, combined with walnut finish elements with leather handles.
The element created is a unique custom piece of furniture that will be replicated in the entire chain of M3 Group.
Are you still there? Don't worry, unfortunately we are almost at the end…
Where were we? Ah yes, at Meuble Chariot. Of course, you all have the classic coffee table in mind, but this one is different.
In fact, the architects of Studio La Cellula, in order to meet the client's idea of creating a vintage style coffee table to which the whole concept refers, designed a coffee table with two opening shelves on a cart-shaped structure.
Here too, the details were tricky. In fact, we had to conceive and develop a suitable structure with functional wheels to allow the guest to move it wherever he wanted, enriched with aesthetic and functional details capable of making the cart look good and perform its function as a real table.
«It takes two to tango... sometimes three, four...»
Would you ever be able to dance a tango on your own? Maybe you would, but the result, would not be the best…As in dance, in our work too, we need a series of reliable partners (we don't want to fall to the ground during a hold) on whom we can rely to realize a project.
Without a mutual exchange of ideas, knowledge, reflections, points of view, no project would take shape in the desired manner.
This is why, especially for the creation of custom furniture, it is necessary to make use of the rich network of craftsmen and suppliers with whom we have been collaborating for years. And this is what we do.
Just as in a perfect couple's dance, there is always someone who leads and someone, of equal skill, who follows the steps; so, too, in our case, we provide the technical drawings, the guidelines, while the suppliers and craftsmen, putting their own hand to work, make what has been designed come true.
In the project of the Hotel Marmont, the production of the corian washbasin requested by the client required an intense collaboration with our supplier, who not only immediately accepted the challenge, but also gave us all his useful advice to achieve the required final result. 
Every craftsman and supplier we work with is highly specialized in something and selected for their level of quality.
We rarely choose the same person to make different elements; in this way we can make each element unique and able to fully reflect in every detail what customers and architects like you want and have designed.
«Every cloud has a silver lining.»
Making a custom design project a reality, as you have probably understood, is not an easy challenge.
There is great work behind a chair, a washbasin, or a stylistic choice.
Imagine it as an iceberg, what we can see is only a part of everything that lies underneath.
Are you also thinking about the classic image with the word "success" and under a series of words that make it possible?… nothing could be truer.
Despite this, when you get to the end of such a complex job, see that we have succeeded in fully realizing the architect's project and respecting it, which for us is fundamental because our aim is to support you, and seeing our clients satisfied because able to offer unique sensations to their clients and the desired user experiences, repays us.
Too obvious? Bah, is reality.