«..Break the ice»
Let's talk about holidays in the snow, right? So how to start this article if not with "break the ice"?
I'll break it. I know you were expecting some sort of "publicity" on which Hotel to choose for Christmas holidays. Maybe, you also expected a discount or a brochure with a series of activities to do. We see a lot of them these days. 
I'm sorry to disappoint you, but I'm not talking about that. 
Come on, I don't think it's the right place and it's not our job.
I also add that for us our customers are all the same, or rather they are all unique; for this reason we would never favor one over another.
So what's this article about? Simple no; how to be chosen by customers for the holidays.
How to be chosen? By doing good advertising. And how to make good advertising? Having a good "product" to advertise.
Yes, because everything starts from here, it's useless to invest exorbitant amounts in the promotion, if the product or better the experience, because we are in 2021 and the word product seems a bit outdated, that "we sell" is not of quality and does not meet the customer's needs.
So, today's article talks about this, how to make the project of "Hotel in the Snow" a winning experience. 
To do this I will tell you about some Hotels, of this type, that we have realized.
«There is not a single way to do beautiful things»
As we always say, there is no right way to do things. Every Hotel we design is conceived as a unique and artistic gesture, dictated also and above all by the ideas, inspirations, feelings of the moment. 
Perhaps this is the beauty; everything takes shape spontaneously, because when you have the means, experience, knowledge, you do not need much reasoning. 
We come back concrete. Of course, when we think about a Hotel on the snow, where to spend the holidays, we immediately think of wood, a space with a warm, welcoming atmosphere, a characteristic style, and a fireplace.
You're imagining it, right? Was I good at pitching you this set of images?
Surely, therefore, since we have to realize not only what you want but also what your guests want, the design of a Hotel of this type will have to take into account these elements, otherwise the guest will find it strange to open the door of your hotel and find bamboo walls, to understand. 
But it's not enough to choose a little 'wood, a little' red, a little 'faux leather printed cow to have a fantastic Hotel in the mountains. Of course it's not enough. 
Also and especially for these projects the choice of materials is important. It has an intact influence on the style and atmosphere you want to recreate, for example a wood or an imitation wood of poor quality could give the space an artificial and artificial appearance. In addition, when using wood for projects, it is also important to consider wear and maintenance, and therefore the costs of the same. Especially if the wood, as often happens in these projects, is used in almost all the space. 
It is therefore necessary to find a solution that reduces these two aspects to the maximum. 
With characteristic style, of which I spoke before (are you following me true?) I don't mean only the purely "typical", come on, you understand which one.
In fact, in recent years, even for Hotels in the mountains, it's increasingly using a language linked to modern architecture, which brings design at high altitude. 
A contemporary style, sometimes even futuristic avant-garde while maintaining the "somatic traits" typical of these structures. 
The last Hotel among the snows that we had the pleasure of realizing was designed in this sense.
Wait a minute, I'll tell you about it. 
«No panic»
Sorry to keep you waiting, but the rules tell me not to make too long paragraphs. I don't want you to get scared and not keep reading. I care about you, you know. 
Where were we? Ah yes, to the idea of designing a modern mountain Hotel for the holidays.
We abandon, for the moment, the idea of a usual mountain hut, with all due respect for the huts, and we embrace that of the last Hotel on snow that we have created: Villars Alpine Resort. 
This large complex in the heart of the Swiss Alps in Villars-sur-Ollon comprises three completely renovated Hotels: Villars Palace 5*, Victoria Hotel & Residence 4*, and Villar Lodge. 
The latter had already been restructured previously, so no renewals have been planned this year.
We took care of the other two. Villars Palace 5* works will end in 2022, so, for now, I won't spoil anything for you (stay tuned). 
Today I want to talk to you about the Victoria Hotel & Residence 4* that will open soon. 
This Hotel, as already said to you, is somewhat detached from the conventional idea of the Mountain Hotel and wanted to stand out for its commitment to sustainability.
The design is totally inspired by nature, to create a connection between exterior and interior. We have tried to give life to the refined and innovative concept signed by the artistic director Ottavio Di Chio. 
Just think, the lobby will have a vertical garden that recalls the green and the surrounding woods, the seats of the sofas are made of wood from the nearby woods while the stone tables of Dranse give that extra touch to the environment.
If those above are not enough examples to make you understand the uniqueness that will have this environment, I also tell you that we have created, always for the lobby, a "BONSAI vase", if so we can define it, size 2200x1000x1000 mm, which contains a large bonsai. 
The rooms, in total 150, with a contemporary design, are distinguished by the cement and greige shades that are perfectly connected with minimalist and futuristic elements.
I'm not telling you about the hard work we did to find the right wood finish that respected the timing, Samuel already told you about it.
The restaurant Peppino, a gastronomic restaurant, perfectly embraces the same style.
Which you probably don't know, since you already knew about the search to find the right finish (have you read the article?), that all the materials used are sustainable and respect the codes of Swiss interior design.
So? Therefore, for example, no plastics were used and thanks to major investments in the renovation of the building, to solve the insulation problems, the overall energy impact of the Hotel was also reduced. 
Ah, another thing, the spaces have been made functional and flexible and therefore suitable for nomadic workers and coworking, because you know, work does not go on holiday. 
«Mix»
You don't necessarily need to have a vertical garden in your lobby to be modern and offer a sensational experience to your guests. Just admit it's brilliant. 
You can also do this by finding the right mix and combining high standards of craftsmanship and iconic design pieces.
That's what we did for the Crans Montana Chalet. Yes, I know it's a chalet, but who said it can't be replicated in a Hotel?
And then maybe you own one and you're thinking of renewing it, we can do it (the only advertising in the article).
For this project, we focused on the choice of quality materials, used in different environments: from the absolute black granite and glass in the bathrooms to the bois streets carefully worked by specialized artisans to create all the furniture made to measure (and this is where the devil hides). 
I once told you "that you have to be in two to dance the tango, sometimes two, three, four", and also for this project the dancers were many. 
We have in fact made use of our consolidated network of artisans and prestigious design brands with whom we have been working for years in order to combine design elements and craftsmanship. We also searched for a new craftsman for the treatment of the wood present. 
The result? A luxurious Chalet for relaxing moments.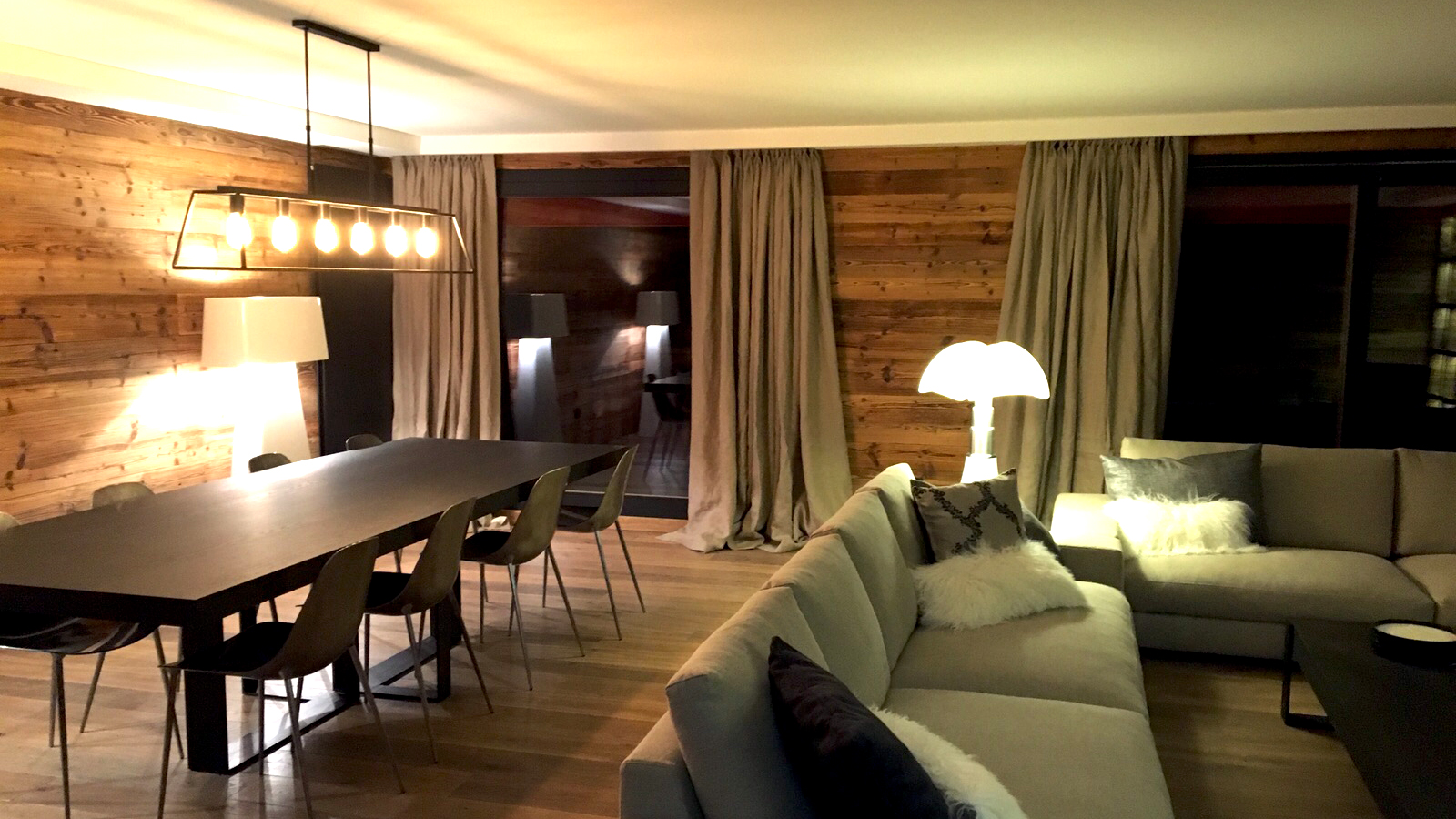 «But what did the typical do to you?»
I answer the above question: nothing. In fact, for a Hotel in the snow, where guests can spend beautiful holidays, you can also opt for a typical mountain style, come on, I guess there is it in your mind. Did you do that?
We did it when we designed the Edenarc 1800. This Hotel is a true hymn to history, the decorations recall the typical style of Savoy and evoke in a suggestive way the history of this region. We used warm and noble materials such as wood, stone, rich woven fabrics, able to immerse the guests in a traditional and sober atmosphere. 
Just think, we specifically designed the "feet" of the coffee table and set them in an iron cross. Also in this case I don't tell you about the amount of drawings that we had to realize to make the architect's project real, instead I tell you; so many.
«I'II tell you a secret»
Not necessarily to propose a good "product" or better a good experience (we said that the word product is not corrected), it's necessary to twist its structure. 
In fact, just a few touches are enough to improve the existing one. We did it for the Hotel Edelweiss, opting for a soft and non-invasive renewal. We have given a touch of modernity, distorting the color of the wood in the colors of gray. All furniture was changed with more modern shapes. All rooms and public areas are decorated with black and white photos of the Swiss Alps.
Today, the hotel is called "the most Swiss in Geneva".